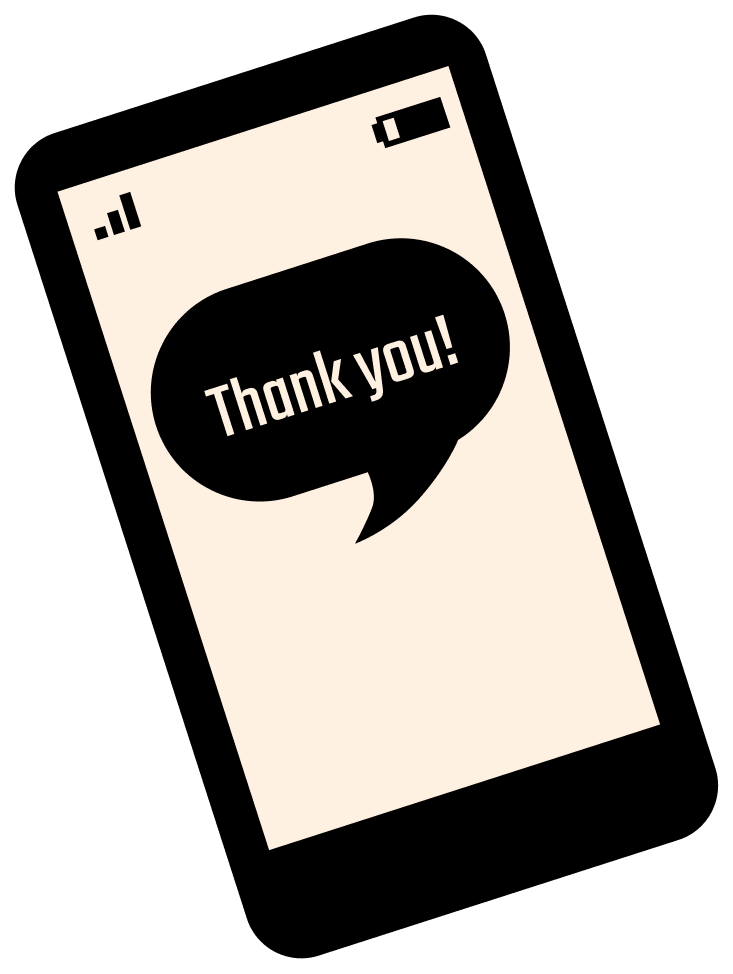 The modern
Thank you card
Send a Thank you card effortlessly to your teammates using Web, Mobile, Slack, Jira and Confluence
Recognition is why we work. It creates a sense of purpose and belonging. Your team will be happier, more motivated, helpful and efficient.


When a thank you card is sent for exceptional work based on one of the team values, the value and culture as a whole becomes stronger.
Powerful analytics allow to celebrate the superstars and rockstars of your team, as well as gain oversight over its' internal climate and find areas to improve.

According to
Gallup
87% of employees worldwide are not engaged in their work
Thanking colleagues in our app creates engagement
According to
a study
 from UC Davis, participants who regularly expressed gratitude felt 25% happier.
Saying Thanks every day in our app makes people happier
According to
Gallup
1 in 3 employees don't feel appreciated and recongized enough
Receiving Thanks in our app is appreciation for their work
What is Good Job, Pal! good for?
In Good Job, Pal! teammates can easily thank each other for reasons you can define. It can be done either from web app or directly in Slack. Each "Thank You" is recorded which allows to:
Reward performance
Best people need to be recognised and rewarded to keep them motivated. It's easy to find your best sales person. But how about your most helpful colleague?
Foster team values
Team values are a fragile system. If they are not reinforced every day they can fade away. How about thanking people on every day basis for following most important values?
Quantify thankfulness
Show the best performers dashboards on TV. Analyse team performance trends and get insights. Use this data to make data driven decisions.
Trial
30 days no CC required
Invite the whole team

Say thanks to each other

See results in dashboards
10 user pack
First 50 users
Invite up to 50 users

Full functionality included

Customized dashboards
50 user pack
After first 50 users
More than 50 users

Implementation mentoring

Third party integrations
Total price per user tier
Count of users

.

Total price

EUR/month

Price per user

EUR/month/user

1 – 10
10
1.00
11 – 20
20
1.00
21 – 30
30
1.00
31 – 40
40
1.00
41 – 50
50
1.00
51 – 100
70
0.70
101 – 150
90
0.60
151 – 200
110
0.55
201 – …
Contact us
Contact us
Got questions about your Good Job, Pal?
If your question isn't answered in our F.A.Q. below please chat us up in the LiveChat or e-mail us at goodjob@goodjobpal.com
Who is Good Job, Pal! for?
It works with any group of people including scrum teams, interest clubs, families, groups of friends or any other group that wants to foster thankfulness among them.
How much time does the setup take?
It will take only couple of minutes to set up an account, invite users and start using it. Preparing your team might take a bit longer though, but try first and we will help.
Can I have multiple accounts?
You can have or be part of as many accounts as you wish. For example there could be one for your team, one for the whole company, one for your book club and one for you family.
Do I need to enter credit card details?
Sign up is totally free and we don't ask for credit card details too. If you will like our product we will contact you and agree on further development.
What are reasons?
Reasons are a predefined set of values or reasons to be thankful for. This list will be presented to the users so they can choose why they are thankful for in each specific case
Can I use Good Job, Pal! for feedback?
Every vote or thank you card allows to add a comment so that the receiver knows exactly what was the behavior or action that helped someone out or improved their day
Can I use Good Job, Pal! only for my team?
Definitely. As long as your whole team is on board and want to try it you can start with only your team and see how it goes.
What analytics are possible?
We use a business intelligence tool in the backend of Good Job, Pal! so pretty much any statistics, graphs and dashboards are possible. Just reach out and ask us
Can I vote directly from Slack?
Yes of course. Read more on
Good Job, Pal! for Slack
page. Currently the app is not yet published in the Slack app store as we are going through the approval process, but it is fully usable. Contact us to add to your Slack workspace
Can I vote directly from Jira?
As soon as we are finished with Slack we will add support for Jira so that you can say Thanks or vote for well done issues, good comments and valuable input or other behaviour.
Is there a mobile app?
Currently you can use Good Job, Pal! from a browser as we have responsive design, but a mobile app is in the works and is coming soon to make voting even faster.
Where can I get support?
You can ask questions in our LiveChat on this page or directly inside Good Job, Pal! or send us an e-mail at
goodjob@goodjobpal.com
I am ready for some gratefulness!
Not convinced yet? Tell us why!